The State of the Transport Economy in 2022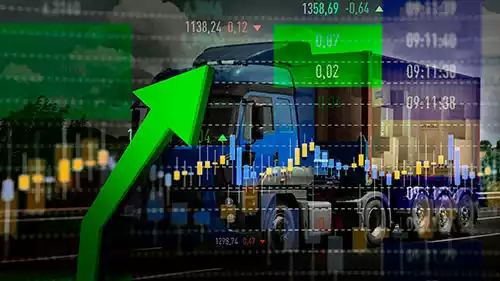 They say any news is good news. With the onset of the pandemic, the supply chain became the focus of the news media to an extent never seen before. Coverage of empty shelves and ships piling up in the ports became as commonplace as sports commentary or the latest celebrity gossip. Though the current news cycle may be on to the next thing, many lingering issues continue to afflict the transport freight industry to this day.
Shortages and other disruptions linger on—but that doesn't necessarily spell doom and gloom for the economy at large.
"2021 was a banner year," says Robert Costello, Chief Economist & Senior VP of International Trade Policy & Cross-Border Operations with the American Trucking Associations. "We had three quarters where GDP grew by at least 6.3%. This is an economy that in normal times grows 2%."
Has attention from the news media affected the shipping industry? Find out in Episode 9 of the Stay In Your Lane Podcast.
What factors drove this boom? Along with some hefty consumer spending, Costello points to two main factors that fuel any thriving economy: population growth and production growth.
The freight industry also enjoyed the benefits of 2021's good economic fortune. One of the major motivators of demand for truck freight, personal consumption of goods, saw a 12.1% rise over the previous year according to Costello. Coupled with solid figures for manufacturing growth and new home construction, the transport industry enjoyed an incredibly lucrative year despite many ongoing challenges.
Like the rest of the economy, trucking demand in the first quarter of 2022 is returning to a more normalized state compared to the boom of the previous year. Rising interest rates, rampant inflation and murmurings of the next recession have led to widespread anxiety. Still, many experts remain optimistic that the future looks bright for shipping.
What are the biggest challenges in the transport industry in 2022? Learn more in Episode 10 of the Stay In Your Lane Podcast.
"I'm not a doom and gloom guy for this year," says Costello. "Do we all have to understand that it will be slower than last year? Absolutely. We are transitioning back to a slower environment, but I don't think it's off a cliff, either. "
Of the challenges that remain to be addressed in shipping, low capacity remains one of the most pressing. A major cause of this issue is supply chain disruptions in manufacturing leading to a lower inventory of new truck stock. A need for new drivers to replace those who have retired or otherwise exited the industry is another pressing concern. Even here, the view from experts remains optimistic as average driver wages continue to climb nationally.
"Inflation is going up so much, most occupations are not keeping up. Truck driver pay is," says Costello. "It doesn't mean they're beating inflation, but they're keeping up in year-to-year growth."
Through all the ups and downs the next year may hold, maintaining strong working relationships across all levels of the transport industry will be more important than ever. Trust Triple T Transport to serve as your valued partner for world-class 3PL brokerage services. Contact us today to get started.
Follow Robert Costello on Twitter @ATAEconBob, and visit https://www.trucking.org/ for valuable information and resources from the ATA.