Transport for construction materials
Triple T Transport is your trusted partner for third-party logistics services and building materials transport. We are a premier transportation broker providing reliable, efficient, and cost-effective solutions for all your building material transport needs. Our goal is to ensure that your cargo arrives at its destination safely and on time, while providing superior customer service every step of the way.
At Triple T Transport, we facilitate transportation for construction materials such as lumber, steel, concrete, drywall, roofing and more. We understand that transporting heavy, oversized, or fragile materials can be challenging. Our extensive experience and expertise in building materials transport offers unparalleled peace of mind. Our team of logistics professionals will work closely with you to develop customized shipping solutions that meet your specific requirements for transporting construction materials of any kind.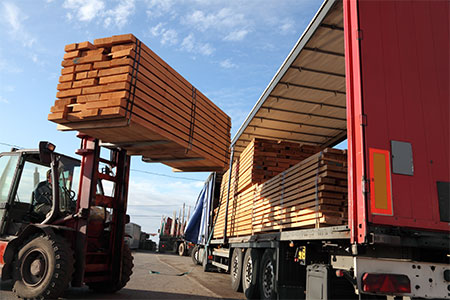 The best carriers. Our partnerships include a vast network of carriers that are carefully vetted and selected to ensure they meet our high standards for safety, efficiency, and professionalism for reliable building materials transport. This means that you can trust us to transport your valuable cargo with care and attention to detail. Our carriers have specialized equipment to handle all types of building materials, including flatbeds, step decks, and double drops.

End-to-end visibility. We offer real-time tracking and communication tools for all of our construction materials transport customers to keep your shipment tracked and on time. Our state-of-the-art technology provides accurate, up-to-date information on your cargo's location, estimated delivery time, and any potential delays. This high level of visibility helps to keep your keep your customers informed so projects run according to schedule.

Exceptional service. At Triple T Transport, we are committed to providing exceptional customer service. Our team of logistics experts is available 24/7 to answer any questions you may have and to provide updates on your shipment and avoid costly deductions that can harm your bottom line. We pride ourselves on our ability to work closely with our clients to understand their needs and provide tailored solutions that exceed their expectations.
Triple T Transport is your go-to partner for all your building material transport needs. We offer customized solutions, experienced carriers, real-time tracking, and exceptional customer service to ensure your cargo arrives safely and on time. Contact us today to learn more about our services and how we can help you with your transportation needs.