Triple T Transport is your trusted partner for third-party logistics services. We specialize in providing reliable and efficient transport solutions for retail goods across the country. As leading logistics brokers and retail logistics consultants, we understand the challenges that retailers face in managing their supply chain. Our mission is to be your single source for supply chain management in the retail industry.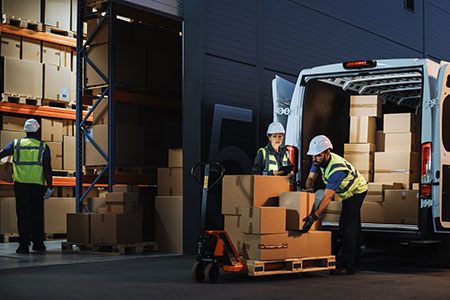 Extensive carrier network. We work with a robust network of carriers to meet your retail transport needs. We have carefully selected and vetted each carrier to ensure that they meet our high standards for safety, reliability, and customer service. Our carrier partners are spread across the country, allowing us to provide 3pl retail logistics solutions throughout the United States. We work closely with carriers to ensure that they have the latest technology and equipment to transport your goods safely and efficiently. By partnering with Triple T Transport, you have access to a vast network of carriers and modes of transportation, ensuring that your goods are transported on time and on budget.

Real-time tracking. At Triple T Transport, we understand that the retail industry is fast-paced and ever-changing. That's why we offer real-time tracking and communication, ensuring on-time delivery and allowing you to stay up to date with the progress of your shipment at all times. Our goal is to provide you with complete transparency and peace of mind, so you can focus on your business and leave the 3pl retail logistics to us.

Unmatched support. Our team of experienced retail logistics professionals are dedicated to delivering exceptional customer service. Our staff works around the clock to ensure that your goods are transported safely and on time for the best supply chain management in the retail industry. We offer a range of transport options to meet your specific needs, including LTL (less than truckload), FTL (full truckload), intermodal, expedited shipping services and support for avoiding deductions.
At Triple T Transport, we understand that your retail business's success relies on timely and reliable transportation. That's why we're committed to providing you with a personalized and transparent service that ensures your goods arrive at their destination quickly and safely. With our wide range of transportation services and extensive network of carrier partners, you can trust us to deliver your retail goods with the highest level of professionalism and expertise. If you're ready to streamline your logistics and take your business to the next level, contact Triple T Transport today. Let us be your trusted partner for all your transportation needs.