Refrigerated delivery pros
Our refrigerated transport services are designed to meet the unique needs of our clients. Whether you need to transport fresh produce, frozen foods, pharmaceuticals, or other temperature-sensitive products, we have the expertise and resources to get the job done. Our team of logistics experts will work with you to develop a customized transportation solution for your refrigerated freight, pairing you with the right carrier to meet your specific requirements.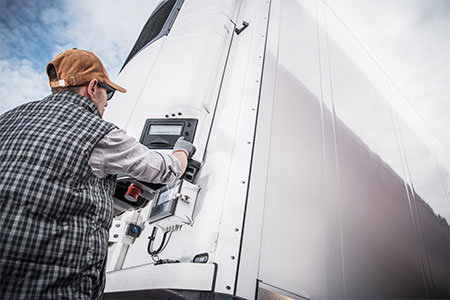 Refrigerated delivery expertise. We understand the importance of keeping your temperature-sensitive products at the right temperature, and we are committed to refrigerated delivery of your goods in the most efficient, reliable, and cost-effective way possible. Our refrigerated carriers are vetted to ensure your goods are being handled by only the most professional drivers. Partnering with Triple T to transport your refrigerated freight means your products arrive intact and on time.

Quality guaranteed. We pride ourselves on our commitment to quality and safety in cold transport. Our carrier partners employ refrigerated trucks that are equipped with state-of-the-art temperature monitoring systems to ensure your goods are transported at the right temperature throughout the journey. Our refrigerated carriers are highly trained and experienced in handling temperature-sensitive products and are dedicated to ensuring your goods arrive at their destination on time and in perfect condition.

Complete transparency. At Triple T, we understand the importance of communication and transparency throughout the logistics process. That is why we provide our clients with real-time tracking and monitoring of their shipments, so they can stay informed every step of the way for on-time delivery. Our customer service team is available 24/7 to answer any questions or concerns you may have, and we are always ready to go the extra mile to ensure your satisfaction for refrigerated logistics and cold transport.

Unmatched support. When you choose our refrigerated freight transport services, you can rest assured that your goods are in the hands of professionals who are committed to delivering the highest level of service and quality. We take our commitment to delivering quality refrigerated transport services seriously, and our support team is standing by to address any questions or concerns you may have regarding the status of your cold freight. After delivery, our support team will even help you fight costly deductions that can damage your bottom line.
Contact us today to learn more about how we can help you transport your temperature-sensitive products with confidence and ease.