Triple T is your top destination for the transportation of frozen food. We specialize in providing efficient, reliable, and cost-effective frozen food transportation services. Our goal is to help you streamline your supply chain and get your frozen goods to their destination quickly and safely.
As a trusted 3PL provider and experts in frozen trucking, we offer a wide range of services to serve our customers in the transport of frozen goods. Our team of experienced logistics professionals has the expertise to handle all types of frozen food freight, including meat, seafood, vegetables, fruits, and dairy products.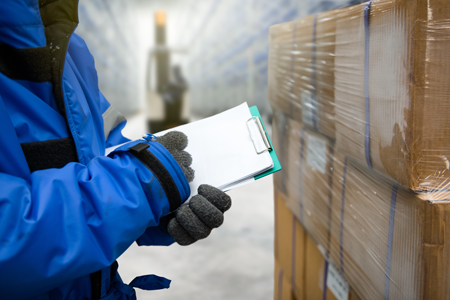 Top frozen food carriers. Our carrier partners deploy state-of-the-art refrigerated trucks and trailers that are equipped with the latest temperature monitoring and tracking systems. We work with carriers who have been vetted and approved by our team to ensure that your frozen goods are transported with the highest level of care.

Experience you can trust. Our team of logistics professionals has decades of experience in frozen food transportation services, with the knowledge and expertise to handle all aspects of frozen food transport. We understand the unique challenges and requirements of transporting frozen goods, and we use our experience to provide innovative solutions that meet the needs of our customers. Our team is dedicated to continuous improvement and staying up to date on the latest industry trends and technology to ensure that we are providing the best possible service.

Accurate tracking. At Triple T, we understand the importance of timely and accurate delivery. That's why we have invested latest technology to provide real-time visibility to ensure that your shipment is tracked and on time. Our customer service team is available 24/7 to answer any questions you may have and to provide updates on the status of your shipment.

Commitment to quality. We pride ourselves on our commitment to providing exceptional customer service and delivering on our promises. Our team works tirelessly to ensure that your frozen food products are transported safely, efficiently, and on time. We even offer support to help combat costly deductions that can harm your bottom line. It's all part of the industry-leading service we provide at Triple T Transport.
If you're looking for a reliable and cost-effective 3PL partner for the transportation of frozen food, look no further than Triple T Transport. Contact us today to learn more about our services and to help streamline your frozen food freight supply chain.