Triple T Transport is your reliable partner for all your seafood transportation needs. We are a third-party logistics broker that specializes in transporting seafood from coast to coast. Seafood companies that ship with us are guaranteed the best customer service, the highest quality transportation services, and the most competitive pricing in the industry.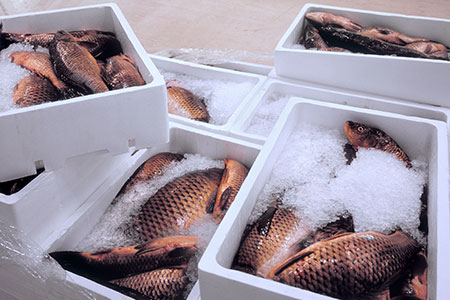 Seafood shipped fresh. We understand the importance of freshness and quality when it comes to seafood. That's why we have developed specialized transportation services that ensure your seafood products arrive at their destination in the best possible condition. We work with a network of carriers who are experts in seafood transportation, and we use the latest technology to track your shipments in real-time for on-time delivery.

Carriers coast-to-coast. Our services include both full truckload and less-than-truckload transportation options. We can transport your seafood products in refrigerated trucks, ensuring that they remain at the optimal temperature throughout the entire journey. Our team of logistics experts will work with you to create a customized transportation plan that meets your specific requirements. Whether you need live main lobster shipped, gulf oysters shipped straight to your customer, or crabs, scallops, shrimp, fish or any other seafood shipped, our carriers are standing by to handle all your seafood shipping needs across North America.

Top customer service. At Triple T Transport, we pride ourselves on our exceptional customer service. Our team is available 24/7 to answer any questions you may have, and we will provide you with regular updates on the status of your shipments. We understand that time is of the essence when it comes to seafood transportation, and we will work tirelessly to ensure that your products arrive on time and in the best possible condition. We even offer support to help fight back against costly deductions.

Seafood shipping experts. When you choose Triple T Transport as your seafood transportation partner, you can rest assured that your products are in good hands. We are committed to providing the highest level of service to our customers, and we will go above and beyond to ensure your satisfaction. Choosing Triple T is the best way to get your fresh seafood shipped to destinations across North America.
Contact us today to learn more about our seafood transportation services and to receive a quote. We look forward to working with you for all your seafood shipping needs!