Signs of Recession Looming in Transport and Beyond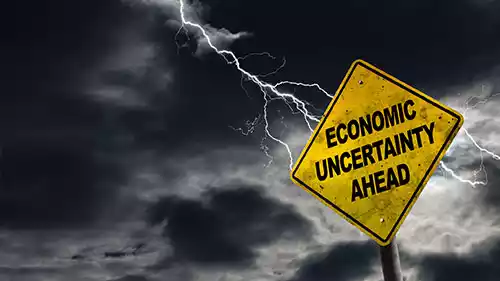 In the face of unprecedented economic shutdowns brought on by the pandemic, the US government rolled out a series of fiscal stimulus packages totaling 5 trillion dollars. Loose monetary policy from The Federal Reserve also helped the economy turn the corner toward recovery in the third quarter of 2020. These factors combined with a huge wave of consumer spending helped make 2021 the biggest year for economic growth in three decades.
Despite looming inflation and continued supply chain interruptions, the potential for growth remains strong in 2022.
"Consumer confidence is still very high," says Dan North, Chief Economist at Allianz Trade North America. "[Consumers] have a willingness and the ability to spend, and that's a good formula for growth going forward."
Consumer confidence data indicates that 2022 will be a positive year for the economy even if growth is smaller than initially projected. Orders remain strong in the manufacturing and services sectors, which should translate to positive employment numbers and economic activity.
Is record-breaking economic growth here to stay? Find out in Episode 12 of the Stay In Your Lane Podcast.
Growth in 2022 seems all but assured, but the lax monetary policy of the pandemic era has resulted in some challenges. Emergency conditions demanded that The Fed act in the form of near-zero interest rates and an influx of new money. This helped fuel recovery, but also created the conditions the rampant inflation plaguing the economy today.
What will it take to get inflation back under control? Whatever the solutions may be, they won't be a quick-fix.
"The big problem with monetary policy is you can't just turn it around in an instant," says North. "It takes three to five quarters for changes in monetary policy to go through the economy."
The Fed has already begun a series of rate hikes to help get inflation under control. This introduces the risk of recession in 2023. Signs of this regrettable outcome are already being seen in the domestic housing market, where mortgage rates have skyrocketed. In a recession scenario, consumers will feel the effects of higher lending rates in everything from their credit card bills to auto loans. Though painful, these rate hikes are necessary to slow the economy and mitigate the effects of inflation.
When could recession strike the US economy? Hear the expert opinion in Episode 12 of the Stay In Your Lane Podcast.
Other indications of recession were making themselves known even before rate hikes began.
"Spikes in oil prices are almost always associated with recession," North explains. "Gasoline prices are at a record high, and of course, diesel fuel is out of sight. This is one of the things that goes along with creating a recession."
The spike in diesel prices obviously has a substantial impact in the transport industry, but his particular driver of recession will be felt across the entire economy.
"Trucks deliver everything. That's one of the reasons why food prices are going up so rapidly," says North. "Transportation is adding [cost] to everything that has to come in by truck, and percentagewise, that's an awful lot of stuff."
Is recession truly on the way? Only time will tell. To be sure you're ready for whatever the future holds, partner with Triple T Transport for world-class 3PL brokerage services you can depend on. Contact us today to learn more.