3 reasons why truckers aren't driving max hours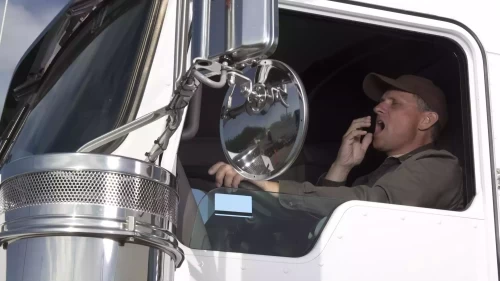 Efficiency and productivity are the keys to success for any transport operation. This means carriers must get the maximum number of miles from their drivers that can be safely and legally driven. By law, drivers can stay behind the wheel for 11 hours (after 10 hours of rest) in a 24-hour period, 60 hours on duty in seven consecutive days, or 70 hours on duty in eight consecutive days. Any hours left on the table means a costly hit to the bottom line.
According to a survey from capacity aggregation firm FleetOps, the number of undriven hours from truck drivers across North America are on the rise. This news may come as some surprise given the supply chain shortfalls and driver shortages present in the modern transport industry—conditions that should see truckers busier than ever. What's driving the trend toward undriven hours, and could extra freight capacity be hiding in plain sight?
Why are so many drivers leaving unused hours on the table? Find out in this week's episode of the Stay In Your Lane Podcast.
FleetOps compiled data from electronic logging devices (ELD) to reach the conclusion that the number of undriven hours has increased month-to-month compared to data from the previous year. To uncover the source of this issue, FleetOps conducted a survey of over 900 carriers. Three primary causes for the rise in undriven hours were discovered upon review of the survey results:
Rising fuel costs—Among the survey's respondents who reported spending less time behind the wheel, 71% said the rising cost of fuel and other inflation-related expenses were to blame. With diesel lingering between five and six dollars per gallon, drivers are choosing to stop early rather than filling up again. Making matters worse, OPEC+ recently announced that it will cut oil production by 2 million barrels per day, which is equivalent to around 2% of global demand for oil. This move will see prices at the pump climb even higher.
Declining demand—31% of drivers who left hours undriven said that their inactivity resulted from a lack of demand from shippers. Inflation has drastically reduced the volume of consumer spending, and retailers are already holding more stock than they can move. This situation is directly contributing to a decrease in demand for freight transport.
Long wait times—Inefficiencies in the unloading process, including long waits for loading, unloading, and parking, were the cause of undriven hours according to 30% of drivers. Logistics facilities are experiencing staffing shortages. With fewer dedicated employees on hand to handle shipping or receiving, longer wait times are inevitable.
Factors such as competition with other carriers, a desire to drive less (due to retirement, getting a second job in a different industry, or illness) and frustrations surrounding ELD mandates were also singled out by the survey's participants as reasons for undriven hours.
Which types of carrier operations are hardest hit by current economic difficulties? Learn more in the latest episode of the Stay In Your Lane Podcast.
The issues described by these drivers could be more pronounced in certain segments of the transport market. Regional, ecommerce, and short delivery drivers are more susceptible to the hang-ups that lead to unused hours than their counterparts in the long-haul game. Fierce competition also means that securing a desirable longer trip isn't always easy.
Even under more stable economic conditions, freight capacity is a complex puzzle. With inflation continuing to dampen consumer spending, it's unlikely that conditions will improve for carriers in the fourth quarter of 2022. Troubling market conditions such as high fuel prices (made even worse by OPEC's recent decision to cut production) make working efficiently more important than ever. To help maximize profit and reduce the number of undriven hours, stakeholders across all segments of transport must do their part to find efficiencies in their processes.
Carriers who work with Triple T Transport for their freight brokerage needs benefit from our strong industry relationships. Contact us today to learn more about our services for carriers and gain access to some of the most desirable routes in the business.