Case study highlights the advantages of Triple T's partnership with Fourkites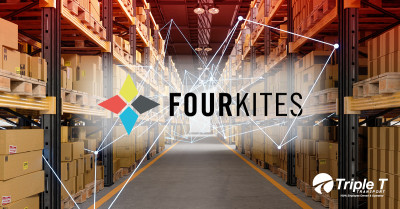 Triple T Transport has entered into a strategic partnership with FourKites, a global leader in real-time supply chain visibility solutions. The partnership is aimed at enhancing Triple T's supply chain visibility capabilities, allowing our team to provide our customers with greater transparency and improved delivery performance.
A recently-published case study outlines how Triple T's partnership with FourKites has allowed us to leverage visibility to further improve the industry-leading value that we bring to our shippers and carriers.
FourKites' real-time supply chain visibility platform is designed to provide real-time information about the location, status, and estimated time of arrival (ETA) of shipments. The platform enables shippers, carriers, and logistics providers to collaborate more effectively, reducing costs and improving customer service.
"You want to be able to talk to everybody that you need to talk to right when you need them. And you need the information right when you need it," says John Mahle, Senior Sales Executive at Triple T and host of the Stay In Your Lane Podcast. "With FourKites, we have the ability to eliminate a lot of the excess communication."
By partnering with FourKites, Triple T Transport can leverage the company's advanced visibility technology to improve our operational efficiency and customer service. Triple T's customers can now track their shipments in real-time and receive accurate ETA updates, enabling them to make informed decisions about their supply chain operations.
The partnership also allows Triple T to enhance our carrier network, letting us work more closely with carriers to optimize operations and improve delivery performance. With FourKites' platform, Triple T can easily track carrier performance metrics, allowing us to identify potential issues before they become problems and proactively address them.
"With FourKites, we're proactively providing a higher level of service," Mahle explains. "Whereas before, we would all have to rely on chasing from behind when there was a delay or a communications problem, now we know about issues in advance and can be proactive in our response."
Additionally, FourKites' platform provides predictive analytics and automated exception management capabilities, enabling Triple T to identify potential delivery issues and take proactive steps to address them before they impact the customer. This means that our team can provide more reliable and consistent service to our customers while mitigating the potential for costly deductions.
The partnership between Triple T Transport and FourKites is a significant development for the transportation industry. By leveraging FourKites' advanced supply chain visibility platform, Triple T can provide their customers with greater transparency and improved delivery performance, while also enhancing our carrier network and operational efficiency. This partnership is another part of Triple T's continued commitment to providing world-class transportation services.
Read the full case study: How Triple T Transport Uses Real-time Supply Chain Visibility to Build a Culture of Innovation.