The best way to ship meat
Triple T Transport is your premier logistics partner for all your meat transport needs. With over 30 years of experience in the transportation industry, Triple T Transport has built a reputation for being the most reliable and efficient third-party logistics brokers and meat shipping companies in the business.
At Triple T Transport, we specialize in transporting meat products, including beef, pork, chicken, and more. Our team of experienced logistics experts uses the latest technology and equipment to ensure that your meat products are transported safely and efficiently. Whether you are shipping frozen meat or refrigerated product, you'll find that Triple T's services and support place us among the best meat shipping companies in the game.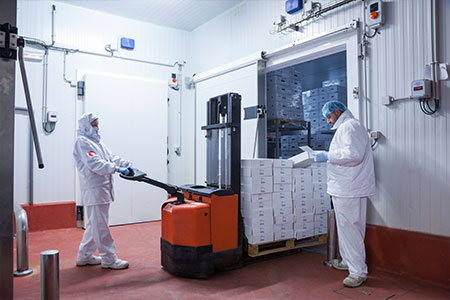 The right equipment for the job. We partner with carriers that have refrigerated and frozen truck trailers that are equipped with state-of-the-art temperature monitoring systems to ensure that your meat products are transported at the proper temperature. We understand that the temperature of the product is critical, and we take all necessary measures to ensure that it remains consistent throughout the transportation process. With real-time tracking for on-time delivery, our carrier network offers unmatched peace of mind.

World-class support. We pride ourselves on our commitment to excellent customer service. We understand that your business depends on timely and reliable delivery of your products, and we work tirelessly to make sure that your meat products arrive at their destination on time and in perfect condition. After delivery, our support team will be there to help you avoid any deductions that may occur.

Kosher and Halal shipping. At Triple T Transport, we understand the importance of adhering to religious dietary requirements when transporting meat products. That's why we offer specialized services for kosher and halal meat shipping. We partner with carriers who take great care in ensuring that your halal and kosher meat products are transported with both care and respect.

The services you need. At Triple T Transport, we know that every meat shipment is unique, and we work closely with our customers to ensure that their specific needs are met. Whether you need expedited shipping, custom packaging, or even same-day meat delivery, our team is ready to meet your needs.
If you're looking for a reliable partner for your meat transport needs, look no further than Triple T Transport. Our services offer the best way to ship frozen meat, refrigerated meat and more. Contact us today to learn more about our specialized services for meat transport and delivery.