Surviving compression and the driver shortage as a large distributor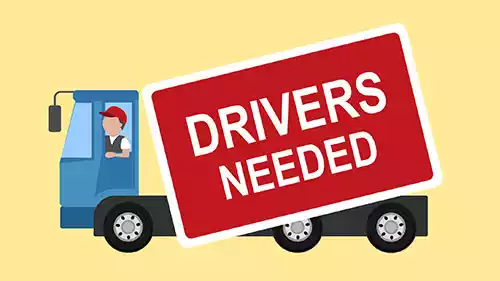 Rising haul rates, tight capacity, and high fuel prices are creating compression in the current transport market. Large distributors and manufacturers hold a unique position in the transport economy.
"There is a driver shortage," says Scott Oliver, Senior Director of Logistics and Transportation for HP Hood. "Whether rates are going up or rates are coming down, where are the drivers coming from and how are you going to get drivers in the seats to make sure that we can handle all of this volume?"
It should be clear to most that the ongoing driver shortage is a problem for the entire transport industry. Coupled with tight capacity and ever-increasing fuel prices, it's not hard to see why compression is cause for serious concern. According to Oliver, the key to surviving these challenges as a carrier is to cultivate strong partner relationships.
"For me, it's all about being fair to one another when rates are going up. But it's also being fair to one another when rates come down," Oliver says.
What are the effects of compression on today's transport market? Find out in this week's episode of the Stay In Your Lane Podcast.
Like so many issues in this economy, the ability for carriers to achieve consistent business will often come down to the strength of their business partnerships. Likewise, brokers who can accommodate their carriers (instead of always chasing maximum profit) will benefit from the continuation of a relationship built upon mutual respect. The key to long term success is working to find solutions that are fair to both parties in the face of higher rates.
Brokers and shippers will also benefit from building a strong relationship with carriers. When rates are down, carrier organizations might come out of the woodwork to offer competitive deals. Avoid missed and late deliveries and any associated fines by knowing which carriers can be trusted to keep their promises.
How can shippers weather the storm of difficult market conditions? Learn more by watching the Stay In Your Lane Podcast.
For shippers, compression and the driver shortage translates to across-the-board increases to a variety of operating costs. Remaining drivers command higher salaries. Fuel prices are up. Even lumper fees are on the rise. These continuing obstacles can make maintaining consistency a serious challenge.
"On-time [delivery] at 97-98 percent five years ago was pretty easy," says Oliver. "Now, on-time above 95 percent—I would challenge anyone to say they're really there with the current market, compression, and lack of drivers."
For both carriers and shippers, sustainability of partnerships is the most important factor for long-term success in transport. Relationships that help each party navigate the ups and downs together in a fair way will help maintain steady business and keep freight moving reliably. Treating transportation as a mere commodity will lead to peaks and valleys for any business. Focusing on mutual service and relationships helps promote stability despite swings in the market.
A great way to keep up-to-date on available, quality carriers is to use a trusted broker. Triple T is a destination for carriers and shippers looking for the best 3PL services available today. Click here to learn more.
Special thanks to Scott Oliver and HP Hood. To learn more, visit Hood.com.