Triple T named as a FourKites "Premier Carrier" for 2023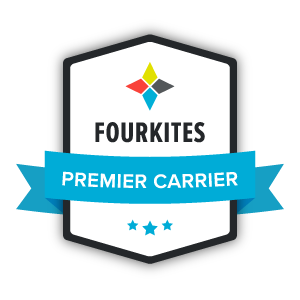 Triple T Transport has earned a place on FourKites list of Premier Carriers for 2023. This recognition highlights the exceptional level of service and support provided by the TTT team, while further cementing the company's important strategic partnership with the technology brand.
FourKites is a real-time supply chain visibility platform providing practical information on the location, status, and estimated time of arrival (ETA) of shipments. The platform allows shippers, carriers, and logistics providers to collaborate more effectively, reducing costs and improving customer service. FourKites' Premier Carriers list showcases the top-performing carriers, brokers and 3PLs on the platform.
As a FourKites Premier Carrier, Triple T helps support the 1,200+ leading brands across the globe shipping 3 million or more loads at any given time on the platform. This mutually beneficial partnership gives Triple T the ability to better serve its customers through advanced real-time tracking and visibility.
"The majority of our larger shippers are on FourKites already, or are heading toward FourKites," says Triple T Senior Sales Executive John Mahle via a release. "Many large shippers don't want to manage a huge pool of carriers or brokers that are all doing a small amount of business. They want to manage the people that are bringing them value and focus on where we can do more together from a growth perspective."
Strong partnerships are the cornerstone of success in the transport field. Triple T thanks FourKites for the recognition as a Premier Carrier, and for being the type of partner that exemplifies the meaning of shared value in our ongoing business relationship.
For more information on Triple T and FourKites, read the Freight Tracking Case Study highlighting the successful partnership between the two brands.