Creative solutions to overcome the truck driver shortage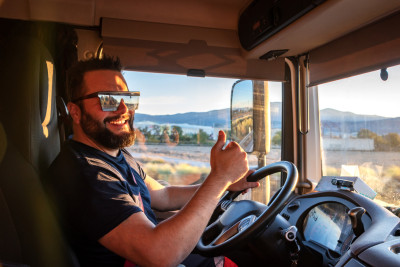 The shortage of truck drivers remains a headache for fleet managers across the country. Good drivers are hard to come by, and even harder to hold onto. While there are no one-size-fits-all solutions to this growing problem, savvy managers have developed strategies for hiring and retaining the best driving talent in this challenging job market.
Competitive Pay
It should come as no surprise that the first step to attracting quality drivers is a competitive compensation package.
"We reached a point when our wages were not keeping up with the market, so we had to go back and restructure," says Gene Balison, Fleet Manager for Litehouse Foods. "All our people were just thrilled to death to have an increase. They weren't thinking about going anywhere else."
To help ensure their revamped pay structure would meet the mark, Litehouse execs conducted interviews with drivers in their fleet. These interactions led to an end of the practice of giving away stops. Starting wages were increased, and a tiered pay structure based on performance gave drivers a chance to boost their own per-mile rate. Incentives for seniority were also implemented.
What strategies can fleet managers employ to attract and retain new drivers? Learn more by watching the Stay In Your Lane Podcast.
Competitive wages kept standing Litehouse employees engaged with their roles at the company. Balison also sees monetary incentives as a tool for hiring new talent. Once a perspective driver is hooked by a competitive wage, they will have a chance to experience the positive workplace culture that Balison believes is the true key to the company's success.
Employee Ownership
Another key piece of Litehouse's strategy for driver retention is employee ownership of the company.
"It is so important that we are 100% employee-owned," says Litehouse Director of Logistics and Transportation Slate Kamp. "Anybody that signs on for long-term employment gets a huge financial benefit."
Driver Apprenticeship Training Program
Bridging the age gap is a huge hurdle for maintaining a large pool of driving talent. As the older generation of truckers retire, younger generations are not joining the profession at an adequate rate to replace them. Litehouse started an apprenticeship program to help prepare fresh CDL holders for success and attract drivers from other relevant fields.
"There are a lot of CDL holders that work in other vocations than what we offer, driving a 73-foot truck and trailer," Kamp explains. "You might have guys who have been driving a dump truck forever who are hesitant about making the transition."
This program gives experienced drivers from other fields a fast track to joining Litehouse's fleet. But the training doesn't stop with current CDL holders. One aim of Litehouse's apprenticeship program is to get employee-owners from other parts of the company behind the wheel. Plant workers can enroll in driver school and an additional 6-week company training course to transition into the driving career. This strategy lets Litehouse bring in proven workers to bolster their driver pool.
What are some advantages to training workers from other parts of your operation to become truck drivers? Find out in the latest episode of the Stay In Your Lane Podcast.
"It seemed odd to us being told to hire drivers with experience instead of hiring them with no experience and training them ourselves," says Kamp. "Do you want somebody that you don't know out on the road with a $180,000 truck, an $80,000 trailer, and a $100,000 load, or do you want to grow it organically?"
The emphasis on training from within has strengthened Litehouse's team by ensuring that new drivers are already invested in the company culture. Though it can serve as an attractive gateway to a new career, candidates in the driver training program are held to the same standard as any professional truck driver. They only earn a place in the fleet if their skills are up to par.
Companies like Litehouse Foods are finding novel solutions to combat the truck driver shortage. Strategies such as increased wages, internal promotion, and employee-ownership give their logistics team an edge in acquiring and retaining the top available talent. For a 100% employee-owned brokerage partner to assist with all your transport needs, Trust the third-party logistics pros at Triple T Transport. Learn more about our full range of services here.