Has the freight economy hit rock bottom?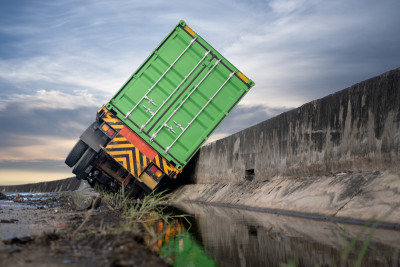 Has our current economic predicament reached its lowest point? Many economists believe the coming months will bring a short recession followed by the chance for a rebound. This a view shared by Bob Costello, Chief Economist and Senior Vice President at the American Trucking Associations.
"I still think the most likely path of the macro economy is a mild recession, probably in the first half of this year," says Costello
Key indicators point to recession, but the timing is still somewhat uncertain. May experts agree with Costello's assessment for the first half of 2023. Others think a recession won't officially take hold until the second half of the year. On the other hand, Costello won't completely shut the door on the possibility of a so-called "soft landing" for the economy, in which a recession is averted altogether.
"[Soft landing] is not completely out of the question," he says. "Although I think it's a lot less likely."
Like many of his peers, Costello sees the coming recession as mild and probably short-lived. However, implications for the freight economy could be much more dire. A shift in consumer spending toward services instead of goods means the demand for freight is decreasing. After years of above-average demand growth, the freight market is finally beginning to fall back in line with lower historic trends.
Why are economists counting on recession instead of a "soft landing" for our economy? Watch the Stay In Your Lane Podcast to find out.
Tied to the newly decreased demand for freight is the issue of bloated inventories. Will companies be left holding the bag on goods consumers are no longer interested in purchasing? Costello believes this problem is nuanced.
"In a lot of industries, [inventories] don't seem that bloated," he explains. "But when you start to peel back the retail numbers, what you find is big box retailers got really bloated in terms of inventories. That's where the problem is."
Costello sees large retailers poised for a bounce-back as early as the second half of 2023 as they begin to work through their stockpile of goods in the first half of the year. This doesn't mean freight demand will come roaring back in this timeframe, but demand should increase steadily along with a normalization of inventories.
With the assumption that the current economic woes will bottom out in the form of a mild recession in first half of this year, Costello is optimistic for a recovery in the third or fourth quarter of 2023. But this forecast comes with a warning.
"The first half of this year is when we'll hit bottom, and then we'll start to come out gradually," Costello says. "I don't want people to think, 'Oh my gosh, let's do a repeat of the second half of 2020 and 2021.' That's not going to happen."
Conditions such as restrictions on travel and government stimulus that fueled a freight boom during the pandemic are not likely to return anytime soon. A brief, mild recession will avert the worst possible outcomes for the freight industry in the near future, but the massive demand for freight from recent memory is also unlikely to return. In this case, recovery means neither boom nor bust, but a return to business as usual.
Are there signs of hope ahead for the struggling freight industry? Learn more in the latest episode of the Stay In Your Lane Podcast.
The other key piece of the recession puzzle is inflation and the Federal Reserve's command over interest rates. Costello sees the Fed increasing the rate through the first half of this year in an effort to reach its target of two percent inflation, with a possible pause on rate hikes coming before 2024. This would also point to a cooling of the white-hot economic conditions of the pandemic era in favor of something closer to historical norms.
"Interest rates were already low going into COVID, and then they felt like they had to lower them more. I'm not sure the Fed really had much of a choice," Costello explains. "We had really low interest rates for a while, and I think we're getting back to more sustainable levels for a longer time."
For the freight economy specifically, Costello is encouraged by signs of rising employment for truckers and recent modest gains in capacity. While he warns that the first two quarters will be soft for transport, signs are pointing to better times ahead. Even with recession on the horizon, the worst economic effects may be behind us.
Through good times and bad, Triple T Transport is your trusted partner for world-class third-party logistics brokerage services. Contact us today to learn more and receive a custom-tailored quote.