High operating costs plague private trucking fleets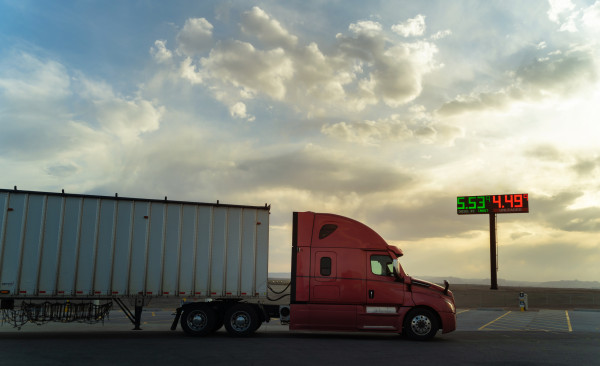 From rising insurance costs and ballooning driver wages to everyday expenses, operations costs for private fleets are reaching troubling new heights. Inflation and other big-picture economic challenges are blowing budgets and creating an economic burden that's only worsening with time. Of all the factors contributing to crippling operations costs for private fleets, one stands above the rest: the high price of fuel.
"Fuel is our biggest expense," says Brian Piraino, Senior Transportation Manager at HP Hood. "We do have the benefit of having our own tanks on site, but trying to overcome the increased [prices] in the last couple of years is not as easy as people might think."
Some operations are able to offset rising fuel costs by hedging diesel futures in advance. Others choose to negotiate with suppliers in real time, riding the waves of changing prices in search of the best deal. Such is the case at HP Hood.
"We have some solid business partners throughout all regions, so we try to negotiate as best we can," HP Hood fleet manager Dennis Wilson says of his fleet's strategy for purchasing fuel. "When we're doing 8,000 to 10,000 gallon drops at a time, we try to be strategic with that planning."
How are private fleet managers combatting higher operating costs across the transport industry? Learn more in the latest episode of the Stay In Your Lane Podcast.
Purchasing fuel from trusted suppliers allows HP Hood to shave a few cents per gallon off the price at the pump. Even this small discount can add up to major savings given the quantities of fuel being purchased for their fleet. Still, the prices paid for diesel today are staggering compared to past rates. Steep discounts that were once commonplace with bulk fuel orders are long gone.
If high fuel prices and other monetary pressures weren't enough, driver shortages continue to plague the industry. Drivers now command higher wages than ever, further increasing operating costs for private fleets. Even with better pay, fleets can't employ enough drivers to keep up with demand.
"The trucking industry has changed vastly over the last ten of fifteen years," says Wilson. "We've tried to combat that with wages, with sign-on bonuses, reduced work weeks—things of this nature, to try to attract individuals into the organization."
HP Hood has struggled to add drivers to their fleet in spite of incentives for new hires. Wilson points to increased competition in the job market for slow recruitment. With so many fleets in similar positions, truckers can choose between many enticing job offers. Just one or two extra dollars an hour can be make or break for a prospective hire.
Which age group is missing from the current driver pool, and how does this affect the future of the industry? Learn more by watching the Stay In Your Lane Podcast.
Driver quality is another challenge for managers tasked with hiring for private fleets. In the dire market for new workers, potential applicants may lack the character required for long term success.
"The professional, courteous driver that we want to put on the road has been non-existent over the past three to five years, when before, we'd have guys lined up out the door" Piraino says of HP Hood's struggle to find quality candidates.
A trend toward the individual owner-operator model across the trucking industry as of late has further thinned the pool of qualified candidates. Other workers are drawn to a traditional work-life balance that is inconsistent with the truck driving lifestyle. The result is a decimation of the labor pool available to private fleets.
From record-high fuel prices to a dwindling labor force, private fleets are facing greater challenges than ever for maintaining cost-effective operations. Stay above the fray with transportation partners you can trust for dependable, high-quality service in these trying times. Count on Triple T Transport for the best third-party logistics services in the industry.